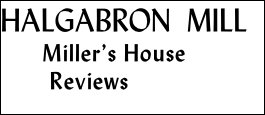 14-21st February 2014
'Many Thanks! We had a wonderful time in your lovely cottage. Thank you very much'.
Simon and Sarah Murray
Millers House was set well off the road in beautiful grounds which were well maintained and quiet. The property was also well maintained, clean and comfortable. Dog walking was a pleasure through the woods after leaving the private gardens of Millers House.Easy access to the local towns and coast.All in all, a lovely place to stay for a relaxing holiday.
Richard Pepper, Yeovil, Somerset, December 2011
" "A beautiful location"
The cottage location is in a beautiful valley and as sheltered as possible from the prevailing weather conditions. It has access to a wonderful garden complete with fast flowing stream and the shrubs and flowers complement the natural surroundings. The cottage itself is very pleasant to stay in - but do be prepared to use the splendid wood burning stove in winter. This is great fun and the owners provided the fuel from the trees in the garden and we didn't have to cut the logs up ourselves! The dog particularly enjoyed himself with the surrounding walks and learnt how to go up and down the cliff paths and only fell in the stream once. Stout footwear is sensible as the going can be rough on some of the cliff paths. For those with mobility difficulties the National Trust have provided a level path on the cliff top to the south west of Tintagel castle which can be accessed via the road to the church. The views are wonderful here. Tintagel and Boscastle are the nearest locations and are more than adequate for shopping and meals but do remember that Cornwall is very seasonal so a lot of surrounding attractions are only open from Easter to October.
Siobhan, Winchester, December 2009